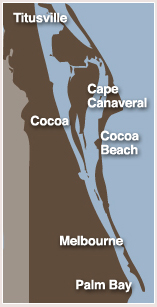 Hard-Wired for Technology
Florida's Space Coast is the birthplace of space exploration and has grown to be the home of several rapidly expanding industries. Our economy features cutting edge communications, electronics, aerospace, advanced security and emerging technologies.
Applied High-Tech Ready Workforce
Florida's Space Coast boasts 48 engineers per 1,000 workers; more than any other Florida metro, or indeed any of the 25 most populated metros in the country. We also have the most concentrated high-tech economy in the state of Florida and the 16th most concentrated in the nation.
Innovators Properly Positioned
Our high-tech workforce fuels innovation, attracting 13 patents for every 10,000 workers – more than double the national average of 6.4 patents per 10,000 workers.
Palm Bay, Florida
Ranks 11th on Forbes' first-ever ranking of America's Most Innovative Cities. Rankings were based on a combination of data including patents, venture capital investment, and ratios of high-tech, science and "creative" jobs.
Good Company
Just to name a few, Florida's Space Coast is home to Boeing, Leonardo DRS, Alstom, Thales, General Electric, Lockheed Martin, Northrop Grumman, Raytheon, Rockwell Collins, Embraer – and the world headquarters of L3Harris Corporation.